We organize tours for first-time and established cyclists.
Hire includes delivery of your bikes to you in the San Casciano area, repair kit and helmet.
The distinctive feature of our bike hire business is the in-depth knowledge of the area. With enthusiasm and competence, Simona will provide you with all the necessary information to choose the tours that best suit your interests.
During your tour you'll be able to enjoy the Chianti's amazing scenery, with its beautiful hills, vineyards, historic palaces and churches.
You will have the opportunity of tasting the delightful food and the world-renowned Tuscan wines.
To make your tour even more comfortable we also provide on-demand services including luggage delivery, mechanical service and special bike accessories.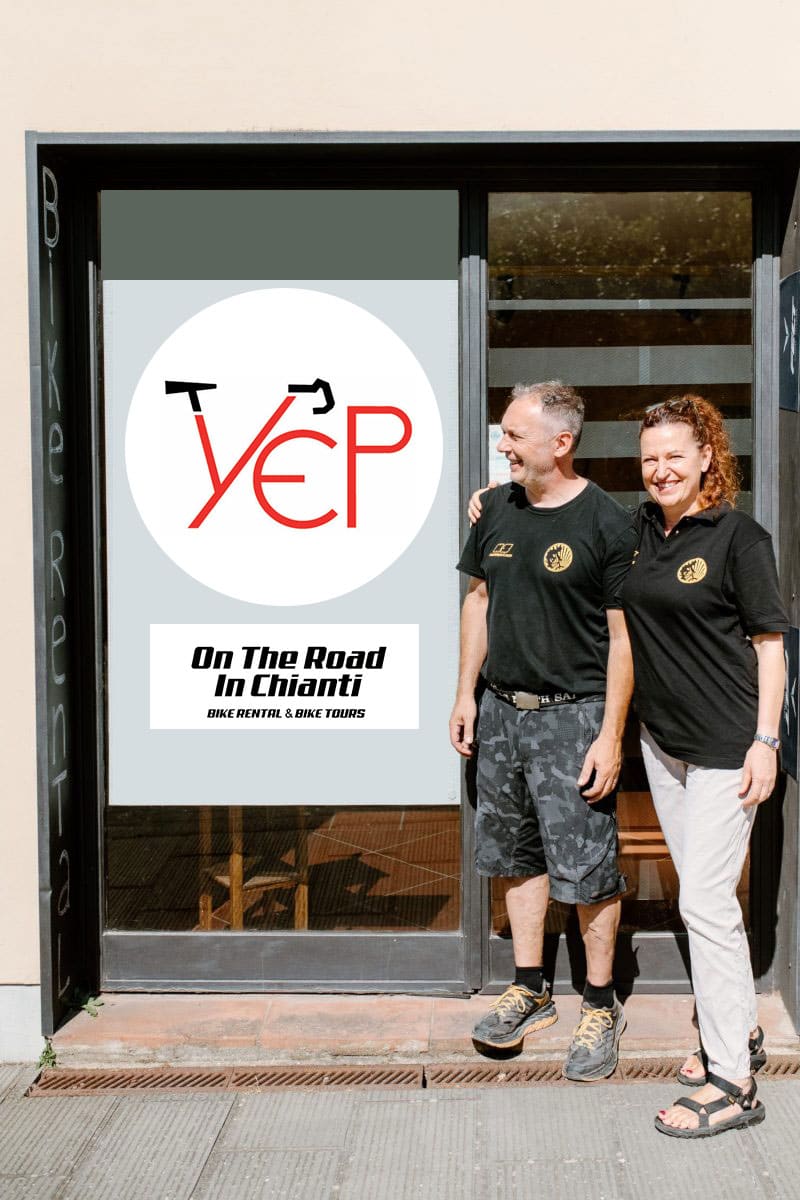 The perfect place to rent a bicycle for cycling in Toscana I came back here to rent a bike for the 2nd time and it was just as perfect as the first time. Simona and Alessio and helpful, professional and kind. Simona is always available by Whatsapp even to assist with non-related questions like recommending a chef. Their bicycles are well-maintained and everything is done in a relaxed atmosphere with a smile. I can't wait to come back here again and cycle through beautiful Toascana. Highly recommended!
Excellent service, fabulous bike, beautiful routes First class friendly service. I rented a fabulous road bike for 3 days and with expert advice on routes from Simona and Alessio, I was able to explore the area. Thoroughly enjoyed it. Such a friendly service.
Top bike, top route, top service! I hired a Trek Emonda. They adjusted the saddle height, fitted my pedals and lent me an extra bidon. They emailed me a .gpx of a fantastic route round Chianti. I could even collect the bike the evening before so I could get an early start. Excellent service and a great price! Top tip for brits: Don't forget, the rest of the world have the brakes the other way round!
Het juiste adres om een fiets te huren (MBT, Gravel, Race of elektrisch). Vriendelijke bediening, duidelijke uitleg en beschrijving van de te volgen route. Heel degelijk materiaal.
Bike tour, esperienza top Professionali, gentilissimi e super disponibili. Grazie per la bellissima esperienza, da raccomandare e rifare
Top service Vriendelijk echtpaar, erg behulpzaam. We hadden onderweg een lekke band gereden, ze kwamen heel snel met een oplossing. Top service. Fietsen zijn van goede kwaliteit.
The magic of Tuscany I hired a really nice Trek Emonda from Simona and Alessio in July. Simona reached out to me on seeing a missed call from my Irish phone number (desperately seeking a carbon bike!). Alessio set the bike up perfectly for me and talked me through several scenic routes (all of which I cycled - and all of which were magical). Thanks so much Simona and Alessio. Your service is super!
Huur hier gewoon je fietsen Top service! De mensen daar zijn super behulpzaam, vriendelijk en enthousiast. Mijn e-bike was heel fijn, de gehuurde racefiets van mijn vriend was ook top. De extra benodigdheden voor de fiets zoals een fietsnavigatie en bidons werden zelfs door ze geregeld. Oh en 1 van de aangeboden fietsroutes die we hebben gedaan ( de Heroes route) was prach-tig!!
Bravissimiii 🙂 Servizio eccellente, consegna bici addirittura in hotel super puntuale. I due proprietari hanno speso tempo con noi per spiegarci il percorso e addirittura chiamato cantine per le degustazione. Persone squisite, complimenti per la vostra passione
Chianti by bike Grazie a Simona ed Alessio per l'accoglienza, la gentilezza e le super bici! Abbiamo trascorso una domenica fantastica. Super consigliato!!